Solace Share For Sale
Narrow Boat Share For Sale
there is a share for sale on



Solace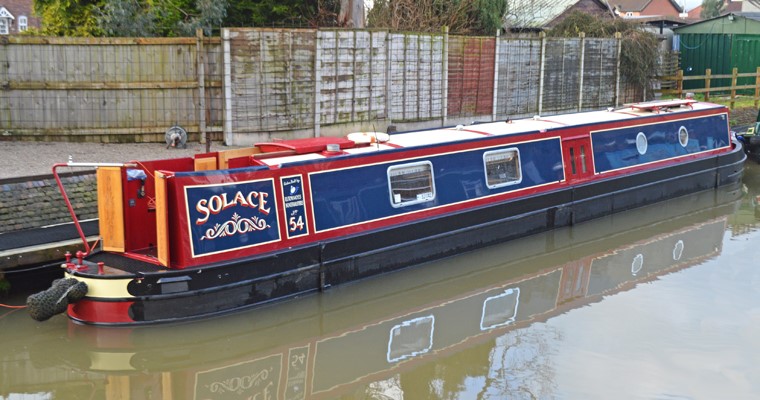 General information
Type of scheme
Managed
Nominal number of sharers
12
Year of build
2013
Home mooring (2022)
Dunchurch Pools Marina, Onley Fields Farm, Rugby CV23 8AN (off the Oxford Canal)
Length
58'
Engine Type (last known)
Canalline 42hp Diesel
Berths
2 + 4
Change over day
Saturday
Are pets allowed
Yes
Is smoking allowed inside
No
Booking system
Each owner picks their weeks by way of a list that rotates each year.
For full details please see this page. (Opens new window)
Priority for school holidays
Some owners do have a school holiday options on their shares.
General Comments About the Boat
Solace was built by Elton Moss Boatbuilders in 2013 and offers a front bedroomed layout with wooden floors throughout.

The boat is designed to accommodate up to six people in a 2 + 4 format and is pet friendly
.Saloon: The saloon has comfortable built in seating that converts to beds and a wood burning stove.
There is a built in flat screen TV, a DVD player and Radio / CD player.Dinette: The dining area offers an L shaped dinette, which converts to double berth, with freestanding table. There is a chiller drawer under the seating.

Galley: A spacious Galley, with the full domestic sized gas oven and grill, separate four burner gas hob, fridge/freezer, 230v microwave, a dishwasher and granite worktop.

Bathroom: The cabin bathroom offers a full sized shower and a pump out toilet.

Bedroom: In the front bedroom there is a full sized double bed, plentiful storage and washing machine / tumble drier.
Specific details for the share offered
Size of share as a percentage or fraction

24th

Price in UK Pounds
£2,500
Reason for selling
Bought my own boat
Pre-booked weeks included
None booked
Holiday entitlement with share offered here.
1 week in summer 1 week in winter
(Red Share so one "Red" week (Summer) and one "Blue" (Winter) week.)
School holiday option possible?
No
Running costs for 2022




£96 per month
How are the running costs to be apportioned
I would ask the incoming owner to take over the
monthly contribution from purchase.

Contact details for vendor
jeremychughes@gmail.com
General comments by vendor

I have owned my share for over two years. In that time I have enjoyed Solace particularly when we were able to take up an unused week from another owner and add it to my existing summer week giving me two weeks cruising.
---
If you cannot find a share to suit please joining our mailing list and be amongst the first to be advised when new shares come up for sale.