12 volt TV set regulator
12 Volt TV regulator power plug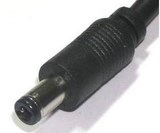 Above - our DC cord (Exact style can vary slightly)

Note the big "black box" in the middle which does all the required "work"

Cosmetic differences may apply.

Hundreds sold to date!!!

This item is always in stock (or we will say it is not!)

Item is usually posted second class (UK) the day after your order is placed.

THE PROBLEM AND THE SOLUTION

Most 12 volt TV set do NOT come with a REGULATED 12 volt power supply to protect you against voltage drop.

If you have one of this gadgets it REGULATES the voltage off your batteries going in to your TV. This means that when your battery is being charged the output is stable, when the battery is fully charged the output is stable and when you battery is running low the voltage is actually INCREASED by it. At some point if the voltage from the battery gets too low the unit will shut down, and thus shut the TV set down with it to prevent damage to it.

You can now buy this voltage regulator here to use on your existing set. Please note this is sold as a spare part and we cannot be held responsible for any resulting malfunctions that may or may not happen as a result of your using it with a TV set not supplied by us.
Input via cigar type plug 12 volts or 24 volts.

Output via standard TV type plug (pictured) 12 volts ONLY.
Actual input is between 30 and 10 volts, output 12 volts centre positive 5.0 amp, 60 watts.
The plug part that goes in to your TV has the following statistics
OUTSIDE DIA 5.5MM
INSIDE DIA 2.1 MM
(Highly unusal 5.5/2.5mm
available on request
)
This may NOT be suitable for a Meos or Roadstar set due to plug sizes- ask first, adapters may be available.
Leads are as follows
To the large "cigar" plug from the black box 15" excluding plug.
From the black box to the plug that goes in to the TV 15".
All approx and could change a bit, the cigar type plug can look a bit different!!!
ONLY £22 (inc UK postage)
Buy now from the link below
Please note we do not ship them outside of the UK



To pay by cheque or bank transfer
please e-mail me
- PayPal is better (and you do not need an account with PayPal to use it).
Brand new and from stock

It should fit the following sets - but this list is by no means comprehensive and it may well fit other models:-

Acer AL1751W. (check your set)

Acoustic Solutions APLDVD21621W-HDID, LCD15DVD783F (barrel).

Akura APL1519W-HDID, APLDVD1921W-HDID, APLDVD2049W-HDID, AXDVD1515W-ID, RS-05/12-S335.

Alba ALCD17TV, ALCD17WTV3, ALCD19DVD1, ALCD15DVD1, ALCD15DVD2/A, ALCD15TV, ALCD15TV4 (barrel), ALCD15TV7XI, ALCD15TVXI.

APD DA-24B12, WA-24E12.

Baird CN22, OR19DVDBL.

Beko 15LB250S, 15LB450S, 17LDW450S, 17WLB450S, 22WLM540DHD, 22WLM550DHID, NR17WLB450S.

Bush BLED24FHDL8DVD, CTVL15W15HDVDF, E01LED24USBFHD, IDLCD15W008HD, IDLCD15W08DHD, IDLCD15W16DHD, IDLCD16W16DHD, IDLCD19W008HD, IDLCD19W018HD, IDLCD19W16DHD, IDLCD19W18DHD, L322LED, LCD14DVD, LCD15DVD003, LCD15DVD008, LCD15DVD013, LCD15DVD014, LCD15TV001, LCD15TV005, LCD15TV006, LCD15TV006A, LCD15TV006B, LCD15TV012, LCD15TVXI, LCD15W008HD, LCD17TV, LCD17TV004, LCD19W008HD, LCD19W08DVDHD, LCDS20DVD006, LCDS20TV006, LCDS20TV007, LCDW08DHD, LT19M4, LTF22M4.

Cello C20230F, HH1506H, MTV20D, TP 1906F, TP1438D, TP1510F, TP-1907D.

Daewoo DSL-17D3, DSL22V1WCD.

DGM IPS-2701WPH, L-1715, LTV-1914WHT, LTV-1929WHTC, LTV-2213WHTC, LTV-2215WHT.

Digifusion FD15.

Digimate L-1715, L-1718, LTV-1914WHT, LTV-1929WHTC, LTV-2213WHTC, LTV-2215WHT.

Digitrex JFD1550 RELCD, JFT1500 RE.

Easytouch ET0620-19T.

E-motion EMO-C15/1NG.

Ferguson F2202LVD.

Goodmans GLCD15M2, GLCD15DVD, GTV15LCD, GTVL15N5DVD, GTVL15W18HDF, GTVL19W/HDVF, GTVL19W17HD, GTVL19W17HDV, GTVL19W17HVFW, GTVL19WDVD, GV900, LD1501, LD1540WD, LD1546WD, LD1547D, LD1920, LD1925W, LD1940WD, LD1945WD, LD1946WD, LD1971D, LD2245WD, LD2246WD, LD2271D.

Grundig GLCD1905WHTDV, GU15WDVDT, GU19DVDHB, GU19WDVDPCX, GU19WDVDT, GU22DVDBLK, GU22WDVD3, GUAMIRA15B, GUVL1500.

Hitachi 17LD4000, 17LD4200, HIT15WDVBDVD, HIT19WDVBDVD.
Ikasu DB047704.

JMB JMB1510DVD, JTC0119002B/01.

JVC LT-19DK3BJ, LT-19DD1BJ, LT-22DD1BJ, LT-22DK2BJ, LT-24DK3BJ.

Kenmark 19LVD00DI, 22LVD00D1, 22LVD01D, 22LVD02D, LVD160, LVD163D.

Konci TWMD2201.

Lacie 715214

Logik L15LID628, L19LDIB11, L19LDVB11, L22FEDW12, L22LDVB21, L22LDVN11, L22LDVR11, L23IP11, L24DIB11, LCX14LN1, LCX14LR1, LCX15LN2, LCX15LN4, LCX15LN5D, LCXW19LN1, LCXW19LN2D, LNXW19LN1.

Matsui LM15N5DVD, LM19W1, M19LID618.

Maxim 11LCD15DV.

Maxtor K01ONEPWR, One Touch, One Touch II, One Touch III, One Touch IV, One Touch MSS-11 HDD, Personal Storage 3200/3100.

Meos MEO-DVDM133B.

Mikomi M17WSK001.

Mogen ML1508TN, PAA060F.

Murphy TP1906F.

Onn AO17LC, LE15LCDDVD0701, LE19LCDDVD0701, LE19LCDDVD081, OLCD1501 (Barrel type), OLCD1504, SW1540LD, TL1939-BDTP, XQC-1912DVC.
Philips LC151X01.

Proline LD1401, LVD1580WD, LVD1983WD, LVD1985WD, LVD1986WD, LVD2285WD, LVD2286WD.

Seagate Freeagent Pro.

Sense 51-19C.

Sharp LC13S1E, LC15S1E, LC-17SH1E, LC-20B5E, LC20S1E.

Sonix SO-015.

Soundwave TP1510, TP1906F.

Swisstec C15/1, C15/5, E15/7, L15/8, L15/9, L19/7, L19/9, L22/1, L22/2, M15/4, M15/6, M15/8, M19/11, M19/7, Q19/4, S15/1, S15/2, S15/3, S15/4, S15/5, S15/6, S15/7, S15/8, S15/9, S17/1, S19/2, S19/4, S19/6, S19/7, S20/4.

Teac T19LID638.

Technika L22/03 TDC-UK, LCD19DVDID-307, LCD22-108.

Technosonic LCD1505P, LCD1508P, LCD2001, LCD2017D, LCD2018, LCD2050D, LCD5015.

Techwood TWD20LC1.

Tevion 1923DT, 1940HT, 1943, 1961HD, 1981HT, MD2617TL.

Toshiba 14VL33B, 15VL33B4, 15VL63B. 20WL56B (12V version), 20WL56B (24V version), 20WLT56B (12V version), 20WLT56B (24V version), 23WL46G (24V version), 23WLT46B (24V version), 23WLT46B2 (12V version), 23WLT56B (24V version).

TWF LCD1901D.

UMC C15/1, C15/5, E15/7, L15/8, L15/9, L19/7, L19/9, L19GO7NO2G-785, L22/1, L22/2, M15/4, M15/6, M15/8, M19/11, M19/7, Q14L04E01G-788, Q19/4, S15/1, S15/2, S15/3, S15/4, S15/5, S15/6, S15/7, S15/8, S15/9, S17/1, S19/2, S19/4, S19/6, S19/7, S20/4.

Vistron 12V4A, LTM2271E.

Western Digital My Book Mirror Edition, My Book Premium II, My Book Pro Edition, My Book Pro II, My Book Studio Edition II, My Book World Edition, My Book World Edition II, WDPS039RNN.